Artificial Grass
In CROYDON, BROMLEY, PURLEY, WALLINGTON, SUTTON SURREY, BANSTEAD, EPSOM and the surrounding areas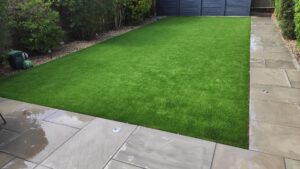 Why artificial grass?
Artificial grass, also known as fake grass, has become an increasingly popular option for people who are looking for low-maintenance alternatives to their green areas. Not only does it look real, but it's environmentally friendly too. What is more, artificial grass is practically maintenance free, meaning that you don't have to worry about mowing, watering, or weeding it. All these factors contribute to the recent growth in the use of fake grass both privately and commercially.
The process:
If you're looking to get an artificial grass installed in your garden, simply give us a call! We'll come to give you a completely free quotation along with advice and support of what should be done.
Once you're happy with what we offer, you then proceed with choosing the right type of grass for your needs. You can either go to a specialised garden centre and order the grass yourself, or we can do it all for you instead!
After the fake grass has been supplied, we come to prepare the area and fit it in for you. Usually, it takes between 1-3 days for medium-sized projects up to 80sqm to be completed.
Once we fit the grass, we will then give you a professional advice on how to take care of it. You're all set!